The Best Halloween Costumes for Lawyers
Published on October 23, 2023 Lawyer Life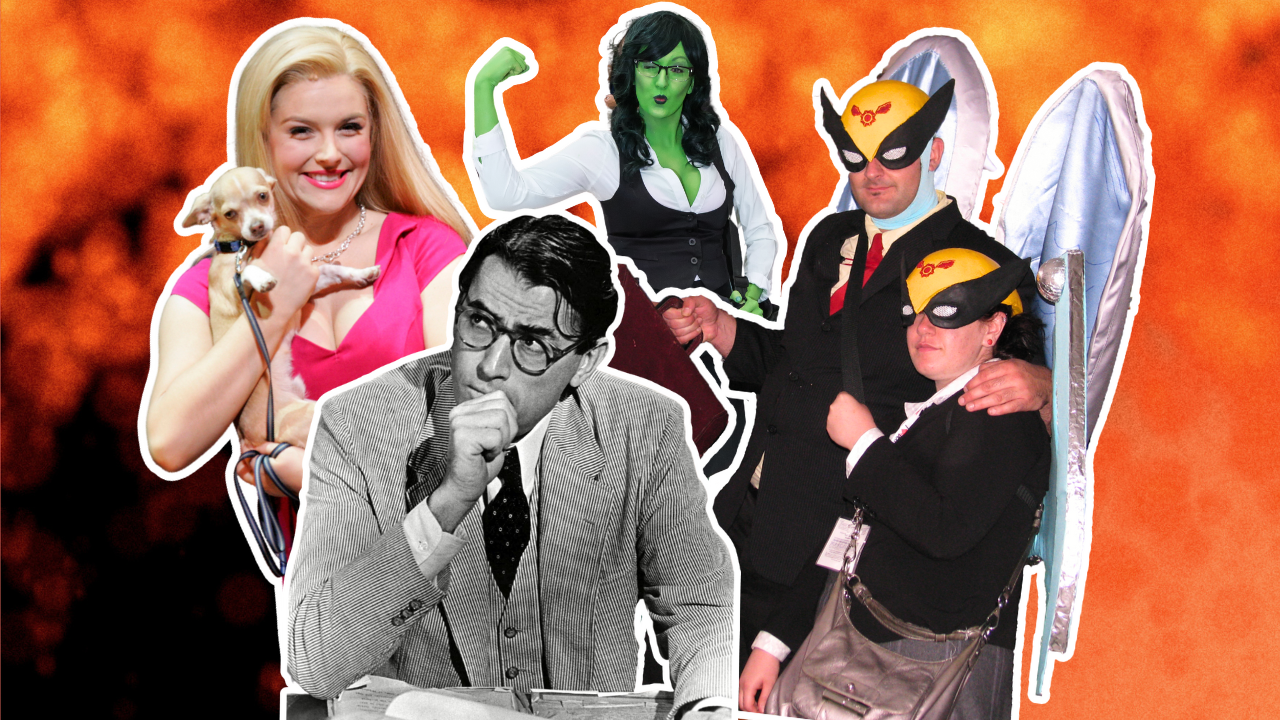 With Halloween right around the corner, we thought it would be fun to compile some law-related Halloween costume ideas. While it's true that most lawyers from TV and movies tend to just fall into the "Person in a Suit" category, we were able to find a handful of iconic characters who make for unique costumes.
Choosing one of these Halloween costumes can also serve as an ice breaker since people will eventually ask you what you do for a living, so they'll get a kick out of finding out you're an actual lawyer, not just pretending to be one.
If you have any other costume ideas, let us know!
Atticus Finch (To Kill a Mockingbird)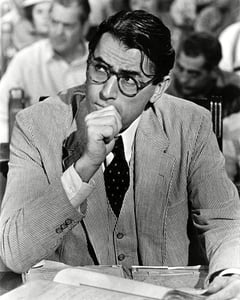 Atticus Finch from Harper Lee's To Kill a Mockingbird may very well be the most important fictional attorney in American literature, and Gregory Peck's portrayal in the 1962 movie adaptation solidified the character's image into pop culture for all eternity.
As such, this is an excellent costume idea for any law practitioner. Yes, Atticus falls under the category of "Person in a Suit," but he's one of the most iconic ones! We couldn't exclude him from this list.
Dressing like Atticus is relatively straightforward. All you need is a pair of round tortoiseshell glasses, a three-piece suit, and a tie. Slick your hair with some pomade, and you're set!
Elle Woods (Legally Blonde)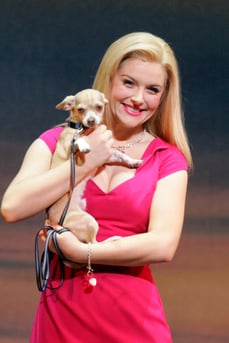 Another iconic fictional attorney is Elle Woods from Legally Blonde. In order to succeed in achieving this look, you need to take the color pink above and beyond.
While just wearing a pink dress might be enough, remember to have fun with it and throw caution to the wind! Carry that pink purse you haven't used in years. Wear a pair of pink sunglasses. Keep warm in a frilly pink coat. If it's pink, put it on! Extra points if you have a cute little Chihuahua (also draped in pink) to make your costume as screen accurate as possible!
Oh, don't forget about the "blonde" part of Legally Blonde. Blonde wigs are easy to find, but don't leave it to the last minute as being a non-blonde may spell catastrophe for your Halloween costume.
Phoenix Wright (Phoenix Wright: Ace Attorney)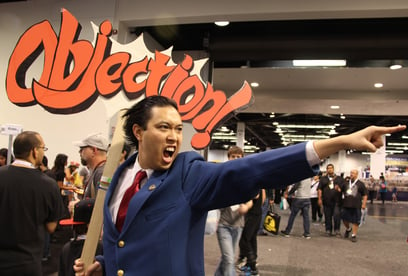 Phoenix Wright is the main character in the Phoenix Wright: Ace Attorney series of video games. His dramatically slicked back pointed hair and finger-pointing gesture, along with the phrase "Objection!" have become cultural touchstones in the video game community.
This costume is relatively easy to put together. Similarly, to the Legally Blonde costume, the hair is what brings the Phoenix Wright costume to life. Whether you decide to use copious amounts of gel and hairspray or you find the perfect wig, achieving the right hair is paramount when it comes to succeeding with this costume. You can also carry around a big "Objection!" sign with you like the image above, but we think pointing dramatically might suffice.
Harvey Birdman, Attorney at Law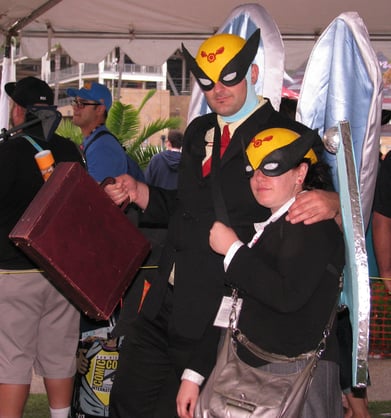 Harvey Birdman is a criminal defense attorney who works for the law firm Sebben & Sebben. He's also based on the iconic 1960's Hanna-Barbera character. Harvey Birdman, Attorney at Law is a surreal spin-off of the classic cartoon. It aired on Cartoon Network's Adult Swim from 2001 to 2007.
To achieve this look, you'll need a Birdman mask as well as large wings. Once those two details are taken care of, you'll just need a brown briefcase, a grey suit, and a red tie to bring the costume together. It may be one of the more time-consuming entries on this list, but fans of the show will surely appreciate your dedication.
She-Hulk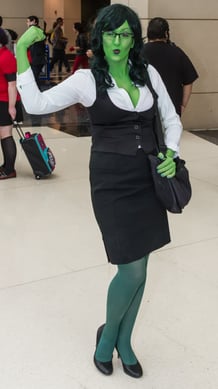 Last but not least is She-Hulk. Jennifer Walters—Bruce Banner's cousin—is one of most well-known attorneys in Marvel comics. After receiving a blood transfusion from her cousin, Walters gained the ability to transform into a powerful, hulking woman.
Unlike the Hulk, who is often portrayed as a massive, oafish powerhouse who can only say a few words, Walters maintains her intelligence after transforming into her super-powered alter-ego, She-Hulk. As such, she's able to continue practicing law, even if her skin takes on a greenish hue.
To achieve this Halloween costume, all you need is green body and face paint. You'll be able to wear what you usually wear to court, as this will bring about the realistic nature of the costume. You can also wear green tights, as seen in the image for this entry.
Honorable Mentions
Bob Loblaw (Arrested Development)
Saul Goodman (Better Call Saul/Breaking Bad)
Lawyer Barbie (Barbie)
Two-Face/Harvey Dent (Batman)
Clair Huxtable (The Cosby Show)
Ally McBeal (Ally McBeal)
Willie E. Gary (The Burial)
Lionel Hutz (The Simpsons)
Annalise Keating (How to Get Away with Murder)
Matt Murdock/Daredevil (Daredevil)
Harvey Specter (Suits)
Michael Ross (Suits)
Rachel Zane (Suits)
Other Non-IP Law-Related Halloween Costumes
British Barrister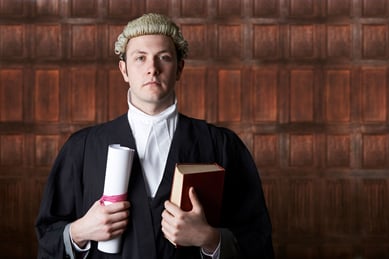 Attorneys who appear in the courtroom in the UK are known as barristers. They also wear white wigs and robes when representing clients in court.
While authentic barrister wigs are handmade from horsehair, you would just need to find a judge wig or white colonial hairstyle wig. Then, throw on a robe and your costume is ready!
People may assume you're simply dressed up as a judge, but you can take the opportunity to enlighten curious onlookers on the differences between American and British legal professionals.
Punny Costumes for Law Practitioners
Miss Trial: Wear a fancy dress and a sash that says "Trial" or "Miss Trial."
Just Ice: A play on "Justice." To achieve this costume, create a bag of "ice" by

filling up a large trash bag with crumpled up, clear trash bags

. Make sure to add the word "ICE" to the front of the bag to bring the visual to life. When people ask what you're dressed as, you can say "Just ice."
Otto Nicli is part of the State Bar's Web team and serves as the blog writer for the Texas Bar Practice website. He also plays a part in marketing and video production. In his free time, he enjoys watching Top Chef with his wife, collecting records, reading, and going to shows.
Share this article