How Law Students Can Access Our Online and Digital Publications for Free
Published on April 18 2023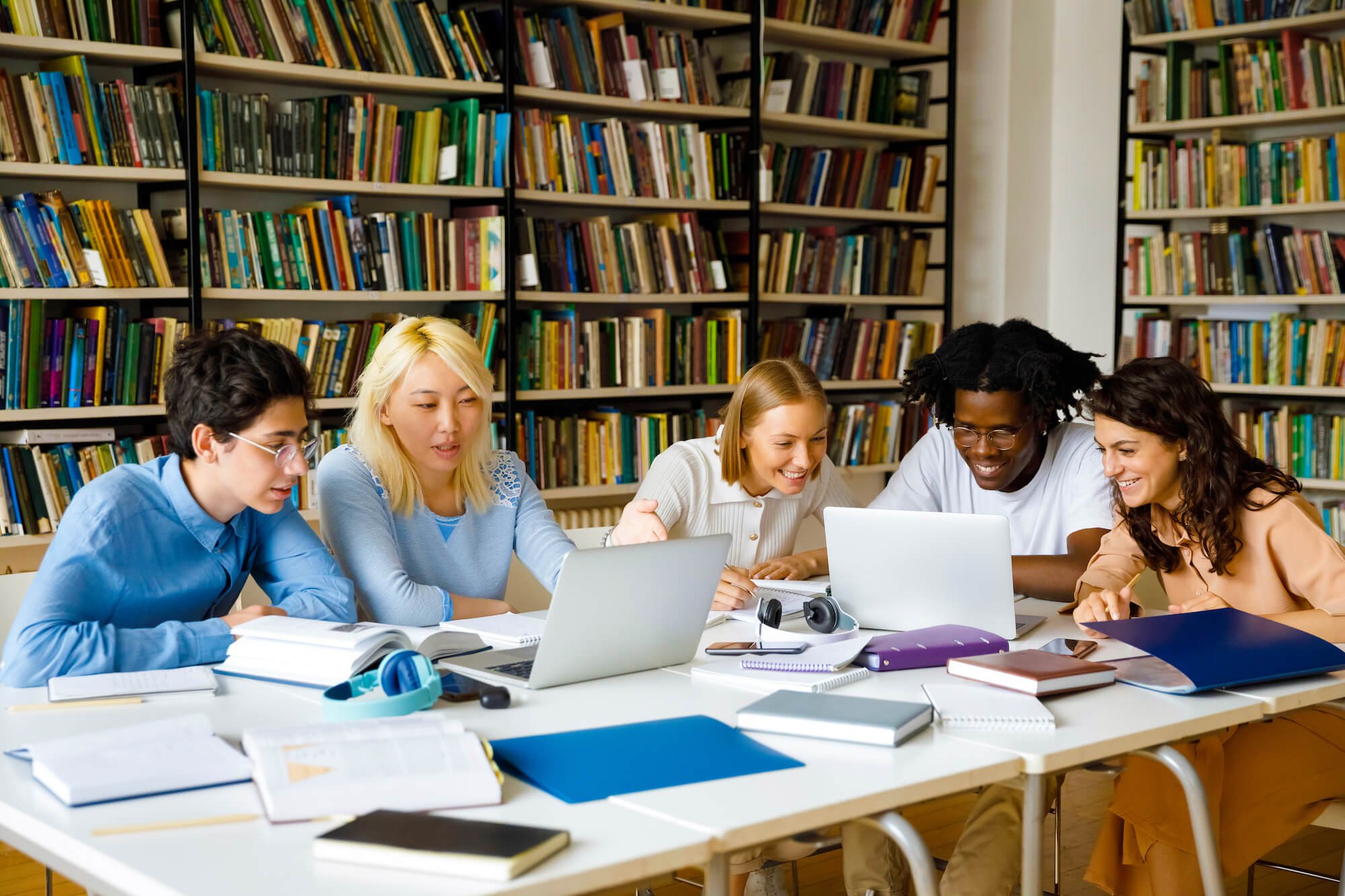 Are you looking for free resources for law school students in Texas? The State Bar of Texas is here to help! Law students and educators can access our digital publications and online subscriptions for free!
When we say free, we mean it. Simply create a Law Education account on the Texas Bar Practice website to download our digital and online materials.
HOW TO SET UP YOUR LAW EDUCATION TEXAS BAR PRACTICE ACCOUNT
Go to

texasbarpractice.com
Click on "Join Now" on the top right of the screen or scroll down to the bottom of the page and select "Create an Account"
On the following screen, select "Law Student"
Enter your .edu email address [you need an .edu email address to gain free access to our publications]
Enter your estimated graduation date, then click "Next"
Fill out the forms with your personal information and set up a password, then click "Next"
On the "I'm setting up this account for" page, choose "Select Myself"
This will take you to the login screen. From there, you can sign in with your .edu email address and password
Upon logging in, you will be taken to your Texas Bar Practice library. This is where you'll find your digital downloads and online subscriptions
HOW TO PURCHASE BOOKS WITH YOUR LAW EDUCATION ACCOUNT
Make sure you're logged in with your .edu email address
Go to "Bookshop"
Choose your publication. Make sure to leave "check to add hard copy" blank as this will charge you the full price of the book
Go to your cart and choose "My Library"
You will then see a zeroed-out total in your cart
Fill out your billing details [you won't be asked for any credit card information]
Click "Place order"
Your digital downloads and online subscriptions will be available on your My Library page!
For a closer look, check out our how-to video: Creating a Law Education Account [Video]
APPROVED TEXAS LAW SCHOOLS
If you're a law student or educator at one of the following Texas Law Schools, then you are eligible to access Texas Bar Practice materials for free.
Baylor Law School
Dedman School of Law
University of Houston Law Center
South Texas College of Law
St. Mary's University School of Law
University of Texas School of Law
Texas A&M University School of Law
Texas Tech University School of Law
Thurgood Marshall School of Law
University of North Texas at Dallas College of Law
If your university is not listed above, please contact us to inquire about getting your school approved.
Download and Print Our Registration Instructions for Your Class
If you would like to provide handouts with registration instructions to your students, you can use the following graphic. Feel free to download or print the graphic.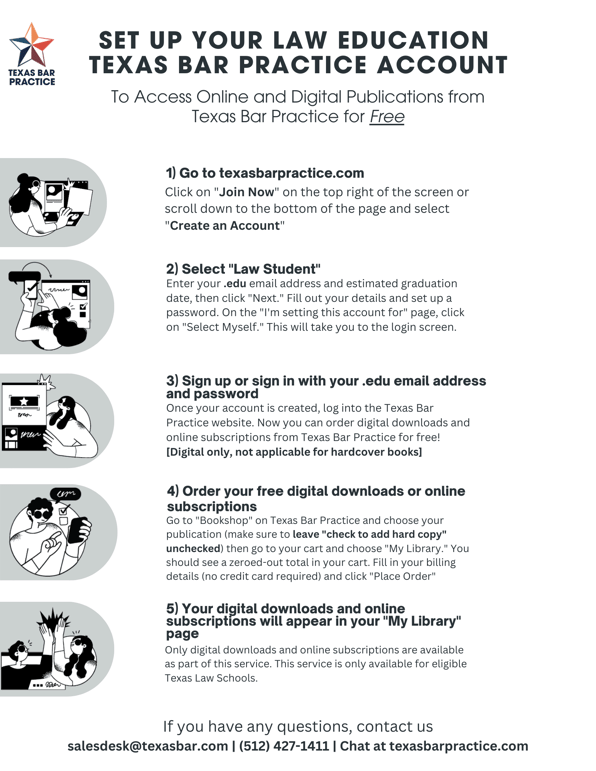 WHY THIS MATTERS – FREE RESOURCES, PUBLICATIONS, AND SUBSCRIPTIONS FOR LAW STUDENTS
State Bar publications are written by committees of Texas lawyers who are experts who practice in many areas of law. Our practice manuals include practice notes, forms, and chapters aligned with case and statute links to Fastcase. Similarly, the Texas Criminal and Civil Pattern Jury Charges provide the definitions, instructions, and questions required to submit jury charges.
As a law student, you'll be able to access the same publications that countless Texas lawyers and judges use on a daily basis. From criminal to civil pattern jury charges to practice manuals full of notes, forms, and easy-to-access links to Fastcase, it's no surprise our materials are so widely used.
Not only are Texas Bar publications full of useful, detailed information, but they're also highly accessible and vastly readable. Simply put, our materials are written in a clear manner, making them an excellent choice for law students, educators, and practitioners alike.
By having access to our digital publications, you may be able to succeed beyond law school. If you're planning to land a job at a law firm while you're studying or you'd like to apply for an internship or clerkship, then having access to our publications can provide you with a wealth of knowledge that can be used in the field.
ACCESSING DIGITAL DOWNLOADS AND ONLINE SUBSCRIPTIONS
Texas Bar Practice has transitioned to a digital-first model, meaning most of our publications are available digitally first and foremost. While we do still sell physical, hardcover editions, they are only available as a bundle along with their digital versions. For a closer look at what Texas Bar Practice has to offer, take a look at our Online Subscriptions and Digital Publications.
This digital-first model means our publications are more accessible than ever before. Whether you choose a digital download or an online subscription (or both!), all you'll need to gain access is a reliable internet connection and a web browser.
Law students and educators can gain free access to the same materials that countless legal professionals in Texas and across the nation rely on. Make the most of this opportunity by setting up your Law Education account on the Texas Bar Practice website!
TAKE YOUR LAW EDUCATION TO THE NEXT LEVEL WITH TEXAS BAR BOOKS
Creating a Law Education account is simple. All you need is an .edu email address from one of the approved Texas Law Schools listed above. If you experience any issues or if your school isn't mentioned, reach out to the Texas Bar Books staff for assistance. You can email us at salesdesk@texasbar.com or call us at (512) 427-1411.
---
HOW TO SET UP YOUR LAW EDUCATION ACCOUNT [WATCH]
The information provided and the opinions expressed in this blog post are solely those of the author. Neither the State Bar of Texas nor the author are rendering legal, accounting or professional advice and assume no liability in connection with the suggestions, opinions, or products mentioned.
Book Talk
Related Posts